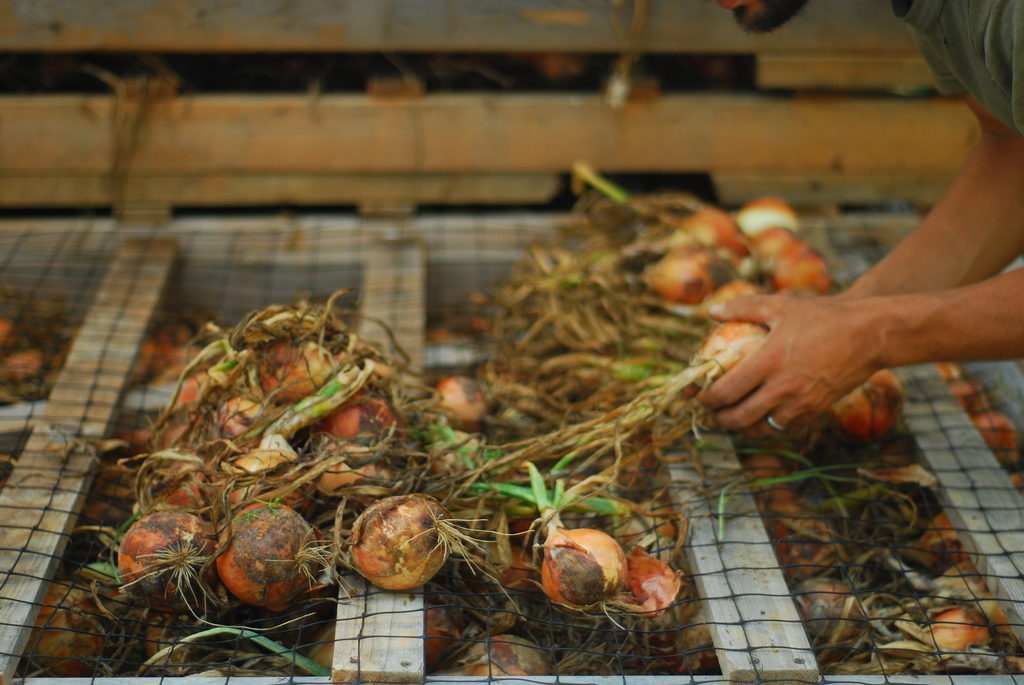 Curing onions. July 2011, Virginia.
On the long list of watershed decisions in my life, that moment in the summer of 2015 when I hit "send" on the invitation to our first weekly potluck has got to be near the top. Yes, I lost my religion and found my people when I studied abroad twenty years ago. Yes, the ground beneath my feet took on a whole new kind of gravity when I said a resounding "I do!" underneath a sprawling ash tree on a clear May afternoon in front of two hundred of our favorite people. Yes, I was born again, more ferocious and exhausted and present than I had any clue was possible, when I pushed two babies out of my womb and into this terrible beautiful world.
Maybe clicking "send" didn't boom with the same obvious thunder, but I maintain it was just as big.
I've thought for a long time about writing a meaty post about our potlucks: why we invite people into our messy home every week, what kind of community has emerged, even tiny details about forks or bedtimes or dishwashing. But one of the truest things about our Wednesday nights, I hope, is they are safe. You come with your salad in one hand and your weariness in another, and when you get here you put it all on the table. Sometimes you talk. Sometimes you reach for the bread quietly. Sometimes you can't hear anything for the din of children careening from couch to coffee table. But you know these gatherings aren't fodder for likes or traffic or ad dollars; you come as you are, to feed and to be fed.
And so I'm not sure I can in good conscience write a detailed potluck manifesto. What I can tell you is to make some soup.
When I first envisioned a standing weekly dinner, I thought I'd make soup and bread every week and we'd ask our guests to bring sides or desserts or drinks. Soup is easy, and comforting, and convivial: everything I wanted these meals to be. But for the first five or six months, we gathered on the beach at the end of our block, and we determined immediately that sandy soup is not delicious. So we switched to picnic fare, but as the weather turned and we moved indoors, out came the Dutch oven and the bone broth. To this day, the table looks different every week, but there is almost always a pot, or two, of soup.
This week I hopped out of the shower less than an hour before our friends were due with no idea what I'd make – par for the course, if I'm being honest! I dug through my soup recipes and remembered one we'd adapted from Simply in Season several years ago for our market customers and CSA members. We have onions and potatoes and kale, I thought, so let's do this! Our original version didn't call for any beans, but we had some chickpeas too, and that sounded even more like a meal.
The pictures in this post come from those same Virginia farm years. As we stand here at what is probably another of those watersheds, I find enormous comfort in remembering that our story as a family winds back through lots of years, across fecund fields and crowded crosswalks and many shared tables. We're going to be fine.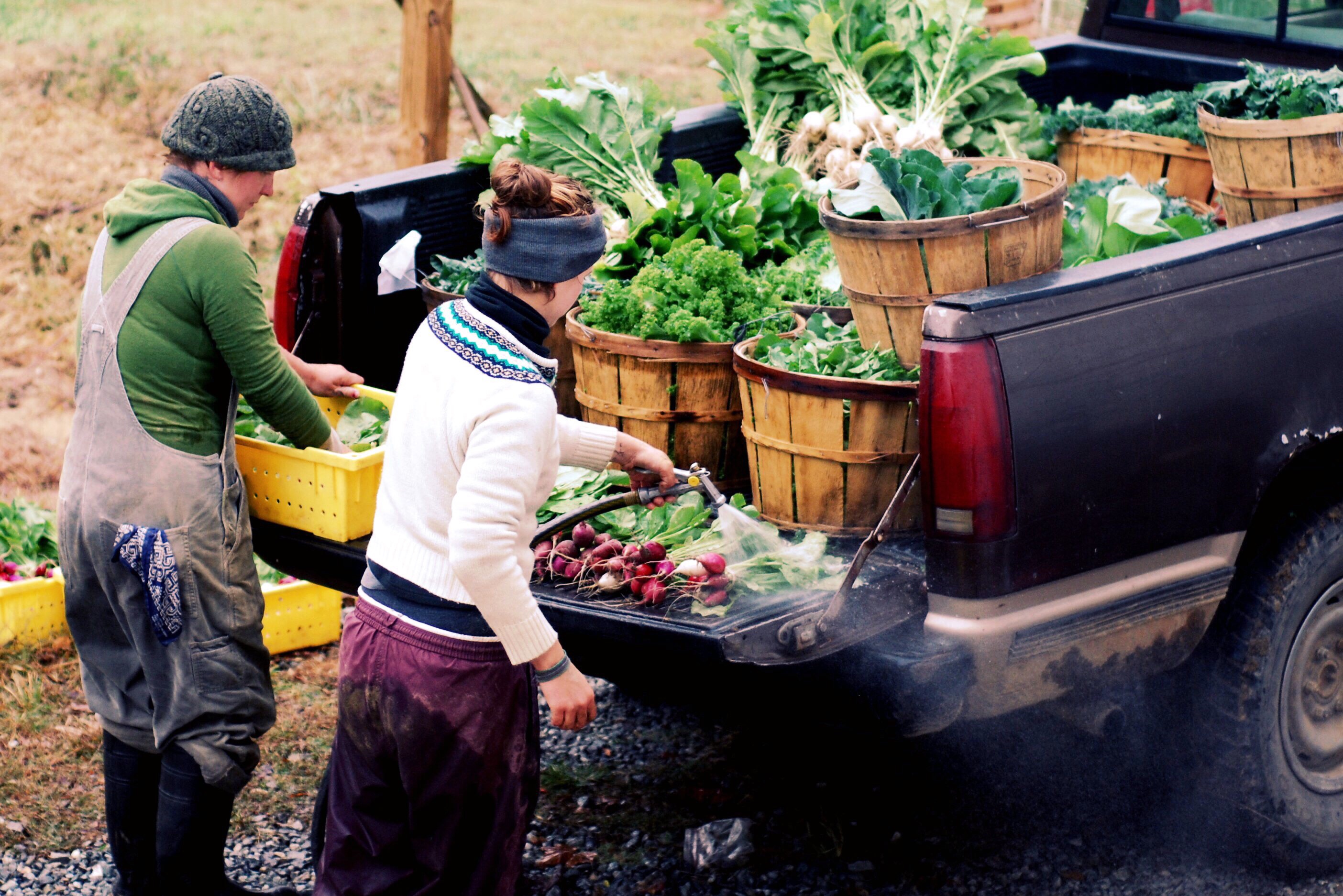 Fall roots and greens. October 2009, Virginia. 
Hearty Potato Soup with Kale and Chickpeas
When I revisited this recipe this week, it seemed odd to divide the broth, but I think there's something to it: some kind of textural alchemy happens when you partially purée the vegetables in only half the broth, and the soup gets way more interesting than you'd expect from such straightforward ingredients.
Use the broth you love best here; water works but a rich chicken bone broth or a deeply flavorful vegetable broth (I like Better Than Bouillon very much) is way better.
1 tablespoon butter or olive oil
1 large onion, chopped, or 1 leek, roots and toughest greens removed, thinly sliced
1-2 cloves garlic, minced
1 1/2-2 lbs potatoes, diced
6 cups chicken or vegetable broth, or water in a pinch, divided
1/2-3/4 lb kale, chopped
1 15-oz can chickepas, drained, or 1 1/2-2 cups cooked chickpeas
salt and pepper to taste
Parmesan (optional)
In a large pot, melt the butter or warm the olive oil over medium heat.  Add the onions and sauté until they begin to soften, and then add the garlic and sauté for another minute.  Add the potatoes and enough broth or water to cover by an inch or so – probably about half the broth.  Bring to a boil and then reduce to a simmer and cook until the potatoes are soft.
Using an immersion blender, carefully blend the soup until it thickens but some chunks of potato remain – or, ladle out about half the vegetables and set aside, purée the rest of the vegetables and the cooking liquid in a blender or food processor, and then return everything to the pot. Add the kale, the drained chickpeas, and the remaining broth. Return to a boil, reduce to a summer, and cook until the kale is soft.  Add salt and pepper to taste. Grate or shave some Parmesan on top and slurp it up!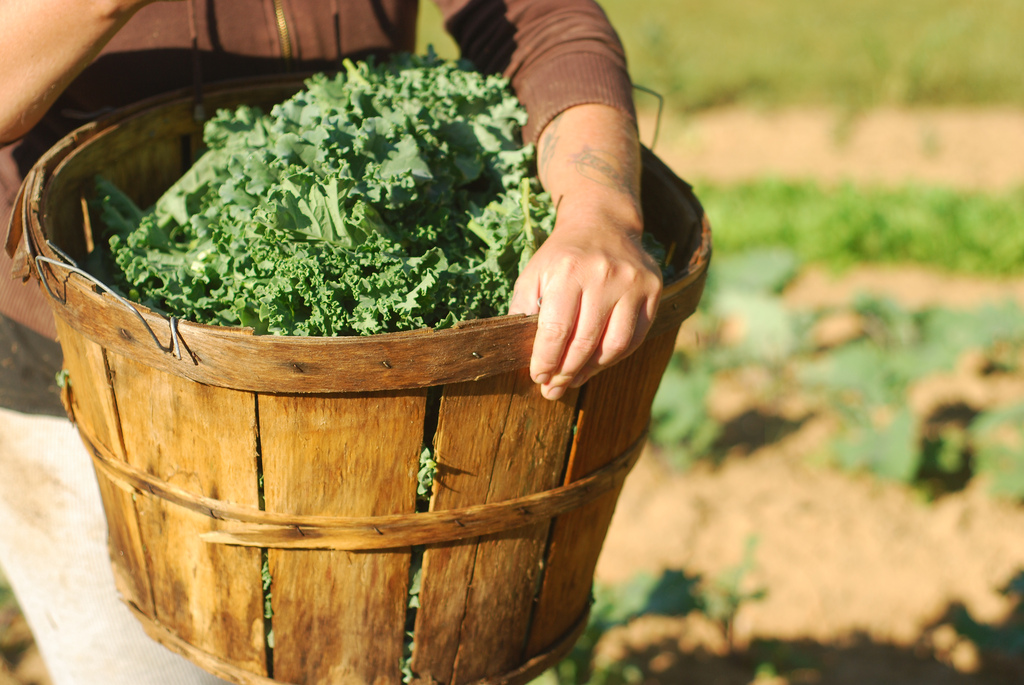 Harvesting curly kale. September 2010, Virginia.