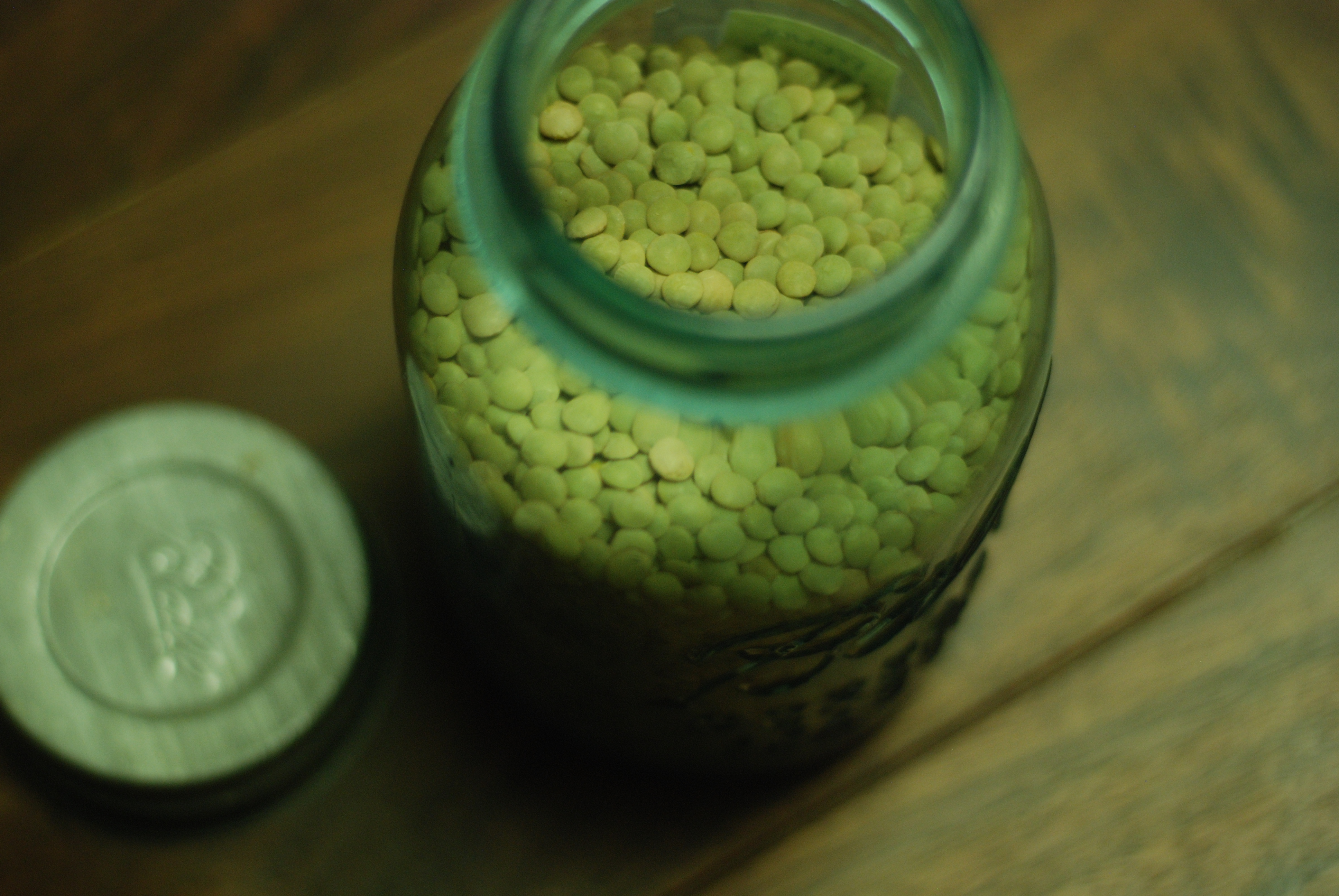 I found some pretty deep peace in a simple pot of lentils this week. It happened like this:
We've been hunkering down and making do/merry pretty well, all things considered – imagined Autobot space voyages to Pluto for magical ice, daytime baths, long read-alouds on the couch, good coffee and mugs of bone broth with ginger and cayenne – but it is also true that we're still coming down from the joyous mayhem of presents and travel, that the weather outside is very grey and very wet, and that all four of us have massive, dizzying, ugly colds. To say I look forward to the moment when my husband walks in the door at the end of the day is a study in understatement.
Tuesday around 4pm: I get a text that a meeting is running long and he'll be at least an hour late. I'm not mad, of course, but that doesn't stop a knee jerk inner growl. I yawn and rub my temples, my daughter whimpers on my hip and wipes her snotty nose against my shoulder, and my son leaps off the table and lands with a ruthless thud. "Mom? What's for dinner?"
Running on empty and knowing I've been by neither farm nor store since our return from the North Carolina mountains, I look in the fridge. Hmm. Lots of cheese. Very old milk. Three kinds of mustard. Pickle relish, yeast, simple syrup, tomato paste, miso, wrinkled grapes. Leftovers of indeterminate origin. It's not looking good.
Popcorn and smoothies is not a terrible dinn– I begin to tell myself.
But I don't want popcorn and smoothies I interrupt. I want something substantial and healing. I want protein. I want plants. Yes, you're really tired. No, smoothies for dinner don't make you a bad mom. Cook anyway.
I close the fridge. I think suddenly of the More-with-Less Cookbook, written by Doris Janzen Longacre and published by the Mennonite Central Committee in 1976 as an appeal to thrift in the kitchen and a call to arms against the global hunger crisis. I haven't reached for it in a long time, but it is homely and modest and practical and that's what I need tonight. I pull it down, find a recipe for Basic Cooked Lentils, and get to work.
Both kids are playing with the dog's bowls under the kitchen table. I smile, put a couple cups of rice in the rice cooker, and slip out the back door, rummaging through our upright freezer out in the shed for some frozen chicken broth. I wrestle it out of its Ziploc armor, drop it into a big pot on the stove, and set the burner to high. I rinse a cup of lentils and as I agitate them in the sieve under running water I feel my mental fog lifting. The kids laugh and I hear dog food scatter and all I think is it feels good to feed my family. I add the lentils to the broth along with a bay leaf and a pinch of salt and turn everything down to a simmer. I look in the fridge again and surface with three leeks, shriveled and pretty gnarly but not rotten. Perfect. I put our big skillet on another burner and set half a stick of butter to melt in it. I peel away the (many) dried outer layers of the leeks and chop off their roots, slice them, rinse them well, and drop them in the skillet. My daughter clings to my leg with another soft whimper.
"Hello, sweet girl," I say, hoisting her to my hip and kissing her forehead. "I know you want snuggles now. But I need to get dinner ready." Like magic her brother appears with a big ball and a grin, and she turns to him with twinkling eyes, already wriggling free.
I step onto the back porch, where we often keep a crate or two of farm vegetables. I'm not hopeful because I know we haven't filled the crates since our Christmas travels, but lo, there beneath a handful of wilted lettuce leaves sits one plump carrot – it looks a little tired, sure, but not so bad. I bring it inside, give it a quick scrub in the sink, dice it, and add it to the leeks along with another small knob of butter and some curry powder.
Miraculously – or perhaps because I am ignoring them – the kids don't need anything. All the base components of the meal are cooking now, and I can turn to the tinier tasks of stirring, tasting, adjusting spices. My mind meanders pleasantly. I think of curries, of how little I know about authentic ones, of how much I love them anyway, of the lunchtime curries I ate at any of the half dozen little restaurants along East Sixth Street in the East Village and of the many approximations I've cobbled together at home. Almost seventeen years ago I bought two books from a man sitting on a quilt outside a train station in Chennai. One was Gandhi's autobiography and the other was called Indian Cookery: for use in all countries, by E.P. Veerasawmy. For no good reason I haven't cooked from it much (despite the back cover's admonition that it "should be part of any cook-proud housewife's library"!). But one big lesson from its first chapter has lingered with me for years: you must cook your curry powder or curry spices in the fat with your onions and garlic for several minutes, before adding any coconut milk or other liquids, to cook off their raw flavor. I'd like to learn more someday, I think, about how to really build layers of flavor in a curry. I think of the pact my husband and I make (and break) every year, to each pick a cuisine and cook from it once a week. Maybe this will be the year.
I think of my enormous cookbook collection. I think of what a thrilling time this seems for cookbooks in general: vibrant, clever flavor combinations; deep explorations of single ingredients or techniques; endless options for all kinds of eaters; and of course the beauty of the books themselves. I don't get to do it much these days, but I love to sit with a stack of cookbooks and a cup of tea.
There's a clear trend right now toward clean, wholesome cooking, whether you tend toward marrow bones and raw milk and home cured bacon or collard wraps and almond milk and meal-sized salads (or all of it, like me!). But there's also a clear trend toward luxury in book design: heavy matte paper, breathtaking full bleed photographs, obvious care and cleverness in layout. It's an interesting juxtaposition.
I think suddenly, absent any guilt or shame: what if I only had three or four cookbooks? I don't mean what if I had to pick my three or four favorites from this crazy collection. I mean: what if, by choice or circumstance or culture, I just wasn't into cookbooks? What if I was just a confident and unfussy home cook with a few worn references tucked on the counter between the coffee pot and the fridge? More-with-Less, maybe. The 1979 Fannie Farmer? A cookie book? What would that be like?
Our own little family straddles these questions of abundance and scarcity every day really: work that means access to the highest possible quality of produce and eggs and meat, smashed up against a pretty spartan budget everywhere else. Hmm. It's a lot to think about, and tonight I am grateful to be muting the chatter and making some simple food with what I could rustle up.
I check the vegetables. The carrots aren't quite done, and over in the pot, neither are the lentils. I scrape the curry mixture into the lentils and pour in another cup of broth. My phone buzzes again: another hour late. I put a lid on the pot, turn the heat to low, and gather my children into my arms.
Wishing you and yours a joyous new year. May your bellies and hearts be as full as mine.
* * *
A Simple Pot of Lentils
adapted from More-with-Less Cookbook, by Doris Janzen Longacre
I like this over rice or another grain. If you do too, get that started first. Then combine 2 1/2 cups broth or water and 1 cup rinsed lentils in a pot and bring to a boil. Reduce to a simmer and add a bay leaf and a pinch of salt.
In a large skillet, melt several tablespoons butter or warm several tablespoons olive oil over medium heat. Add an onion (chopped) or a large leek (sliced and very well rinsed) and anything else that sounds good or is lying around threatening to go to waste (chopped small) – a stalk of celery, a carrot, a red pepper, a few turnips maybe. Sauté until the vegetables begin to soften. Add some chopped garlic and continue to cook for another minute. Now add some spices or herbs. A tablespoon or two of curry powder is nice. Or try some thyme or rosemary and some black pepper. Italian flavors work great. Don't skimp. Saute for a few minutes more and then scrape the vegetables into the pot of lentils. Add more broth or water if things seem dry. Taste the lentils. If they're done, simmer everything for a few minutes more. If they're not, bring everything back to a simmer, put a lid on the pot, and go read with your kids.
Adjust seasonings and serve over grains. Top with a dollop of yogurt or a squeeze of lemon juice and some chopped parsley, if you like.