In a month – perhaps a bit sooner than that, certainly not much later – we are leaving our farm in central Virginia and moving to a new-to-us farm in New York. We have been farming on our own for seven years now, and when we bought our own land five years ago, we had every intention of staying for the long haul. We built a business and worked our soil and had a baby and picked a lot of tomatoes and had a lot potlucks and really dug our feet in. We love what we built and the vision we had for our life here.
The decision to leave was very, very hard, but I don't mean to write about that just now. Some months have passed since we decided. Our grief has faded, as it does. Our excitement is mounting, as it will. And in between … well, the devil is in the details, and right this moment? BLLLLLAAAAAAARRRRRRGH!
But I believe there's grace in a muffin.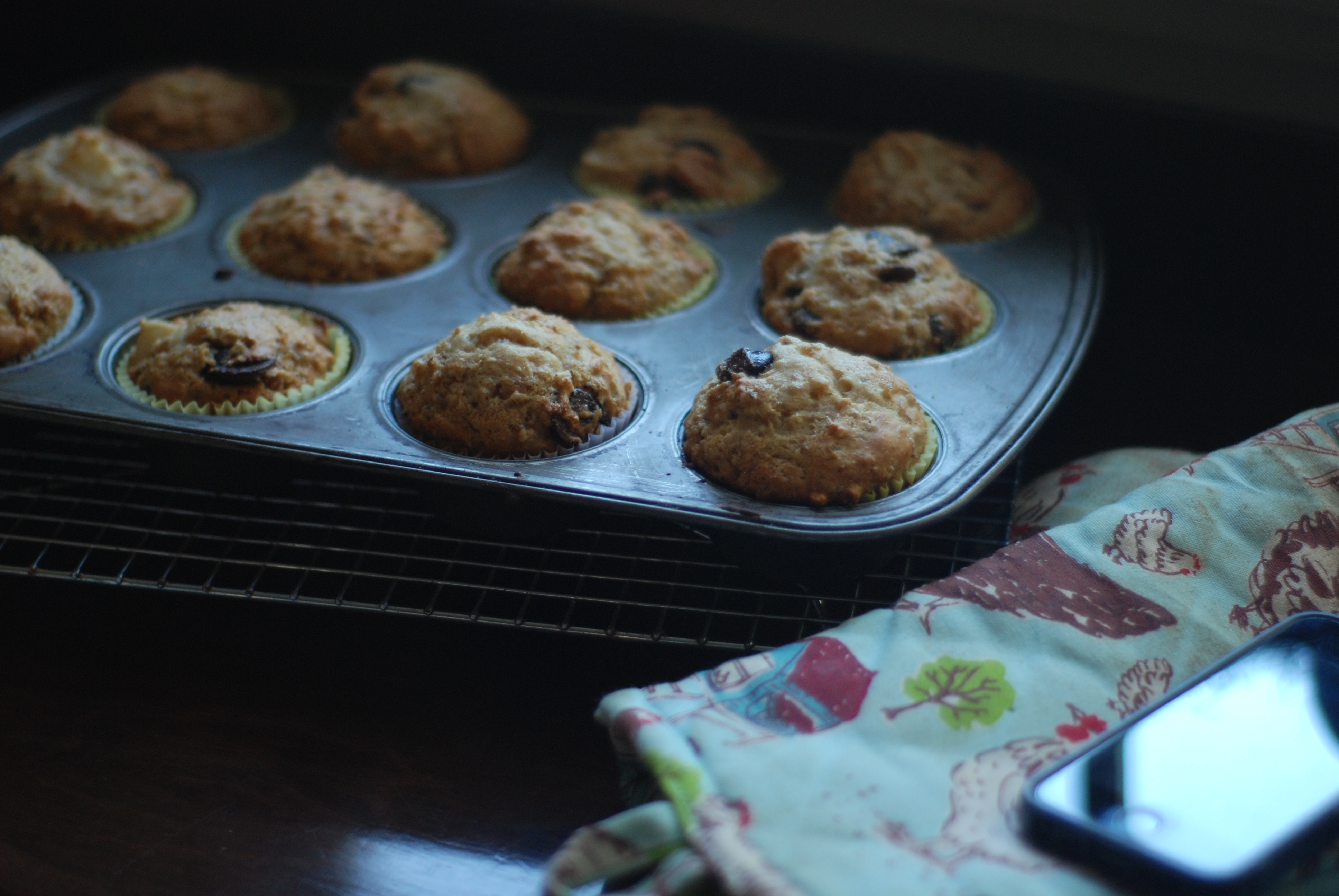 It's hard, when you're in the trenches, to act with all the perspective and poise that come so easy when things are … easy. Your fuse is short and your to-do list is a mile long and your worries pile up like so much dirty laundry and who knows when it's all going to sort itself out? Who knows when things will feel calm again?
I guess these muffins say: "How does right now sound to you?"
Partly it's that they're so reliable. So many muffins sit at one extreme or the other: dry and regrettable, or loaded with oil and sugar and heavy enough to prop a door open. These aren't like that. They're lovely and toothsome, just sweet enough, with a perfect crumb – owed entirely to the leftover oatmeal, I believe.
But mainly it's that if you get out your flour and your eggs and your milk and you begin measuring and whisking and stirring and scooping, you pretty much have to stop thinking about your mortgage. (You may have to think about how to get eggshells out of the batter if your kids are with you, but that's a distraction I highly recommend.)
So maybe it doesn't have to be muffins. It could be applesauce, or mayonnaise, or a soufflé. Or pie! But for me, this week, it's muffins.
Leftover Oatmeal Muffins
We make these muffins a lot – two or three times a month. They'll cater completely to your whim, the season, or the contents of your pantry. We most often use blueberries or mixed berries, frozen, for our extras. Sometimes we add the zest of a lemon too. Other nice combos: toasted fennel seeds plus raisins or currants (plump them first by soaking them in very hot water for about 10 minutes; then drain and add to the batter); dried apricots plus fresh and/or candied ginger; chopped apples plus chopped toasted walnuts; dried cranberries plus chopped toasted almonds plus a little almond extract … be bold! This week I upped the ante and used about a half cup each of frozen mixed berries, coarsely chopped chocolate, and coconut flakes. Yup, that's more than the cup of extras I suggest below, but I was feeling a little brash – although I was pretty certain those flavors would complement one another nicely. They did. And the muffins were big! My point is, throw in what sounds good.
Also, thanks to Amanda for the original recipe and the heads up about using leftover oatmeal. That's really where the genius lies in this recipe.
Update 11/2/16: When I first posted this recipe I called for two tablespoons of baking powder. That always seemed a little, hmm, alarming? We continue to make these muffins regularly and I find the leavening amounts in the updated recipe to work well.
1 cup all-purpose flour
1/2 cup whole wheat pastry flour
1 teaspoon baking soda
1/2 teaspoon baking powder
1/2 teaspoon salt
1/2 teaspoon cinnamon (optional)
1 cup cooked oatmeal
1/2 cup buttermilk or milk or milk substitute, room temperature (or gently warmed on the stovetop or in the microwave)
1/3 cup maple syrup, honey, or sugar
1 egg, room temperature if possible (try warming it in a bowl of hot water for a few minutes)
1-2 tablespoons melted lard or butter or coconut oil (other oils would be fine too)
about 1 cup extras
Preheat the oven to 400°F/205°C. Generously grease a 12-cup muffin tin, or use liners.
In a large bowl, whisk together the flours, baking powder, salt, cinnamon if using, and sugar if using. Add oatmeal, milk, maple syrup or honey if using, egg, and lard or butter or oil. Stir until combined but try not to overmix.
(I used to mix the wet ingredients separately and then gently combine them with the dries, and this is probably a good idea if you're worried about overmixing the batter. But I'm an utter tornado in the kitchen, and for love of my chief washer of dishes I'm trying to use fewer bowls where I can.)
If you have a child who does not like extra stuff in his muffins, scoop one or two muffins' worth of batter into your tin now. Fold your extras into the remaining batter.
Spoon the batter into the prepared muffin tins, filling each about 3/4 full. I find an ice cream scoop is perfect for this. Bake about 20 minutes, until lightly browned on top. Cool for just a minute or two in the pan and then pop them out and eat them warm, with or without butter, or let them cool on a rack.
Makes 12 muffins.