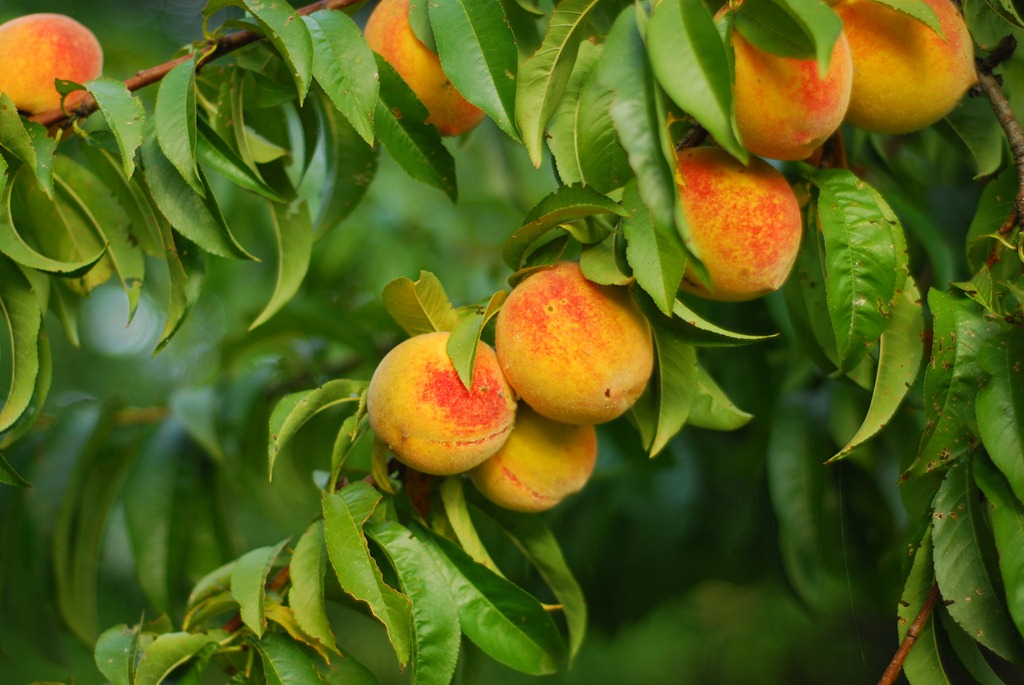 Yes, so, kind of ridiculous to try passing this off as another three things post when most people over the age of about six can clearly count (at least) 20 items here. But hey, I'm talking about tomatoes and corn and peaches! All is forgiven? Moving on.
1) Delicious summer food we've made and gobbled down recently:
Fresh corn cakes from David Lebovitz. We topped them with a fresh corn and tomato salad (see below), chèvre, and eggs over easy. Leftovers kept well in the fridge and were delicious reheated in the toaster oven.
Bangain bharta. This is a traditional Punjabi dish made with charred eggplant, tomatoes, and lots of good spices, and I'm putting it in our rotation until there are no more tomatoes and eggplant. So good. We ate it over brown rice and topped with a dollop of plain yogurt and scooped it all up with Camille's naan, which we made with lard we'd rendered from our own pastured pigs. If you eat and have access to real lard, I heartily recommend that substitution. This particular version was shared with us by a CSA member a couple years ago.
Pasta with let-my-eggplant-go-free! purée from Francis Lam. (Thanks, Molly!) One of those awesome kitchen alchemy recipes, where simple ingredients combine and go BOOM! I would only like to say that after about 12 years of trying, I can say with certainty that I really, really, really don't like whole wheat pasta. I think I'm going to stop trying. I suggest white pasta here, which, for flavor and texture reasons, will really let this sauce sing. Might even make my own next time.
Fresh corn and tomato salad. No real recipe here, and it changes some every time we make it, which is a couple times a week at least. Shave the kernels off an ear of corn, chop a couple hefty handfuls of cherry tomatoes, chiffonade some basil, squeeze in some lime juice, salt to taste. Scale up as necessary. I love it on top of brown rice and black beans (try Molly's quick black beans with cumin and oregano) and topped with a fried egg, or on top of those fresh corn cakes above, or straight from the bowl. I bet it would be good in a tortilla soup too.
Cream of tomato soup. I had the Campbell's stuff often enough as a child, usually with grilled cheese, and while I didn't have to force it down, I didn't really understand the fuss. Now that I make my own I sure do. I love Marion Cunningham's recipe in The Fannie Farmer Cookbook. The ingredient list is quite short so the quality of the tomatoes matters enormously. If you're using fresh tomatoes, make sure they are dead ripe, and make sure you love how they taste raw. You can also fix a slightly lackluster tomato soup with a big spoonful of tomato paste. Canned tomatoes are also an excellent choice here. I've seen lots of versions out there made with stock, which sounds good too and would be perhaps a little less rich than the one we make. I'm also tempted to try a version with roasted tomatoes.
One-pan pasta from Martha Stewart. I followed this recipe nearly exactly (just subbed our homemade chicken bone broth for half the water) and while it was delicious – I adored the sauce that forms from the tomato juices and pasta starch – next time I will use all broth and will double or even triple the tomatoes. Edited to add: I can't wait to try the farro verion of this from Smitten Kitchen. Could something this tasty and easy also be a bit more nutrient-dense?
2) Delicious summer food I love but have somehow not yet made this year:
Cultured salsa from Nourishing Traditions. I can't even begin to explain how good this is. Get yourself some whey (I just strain it from full-fat plain yogurt) and hie thee to your kitchen! It should last for ages in your fridge only it won't because you will eat it all in two days, and that's if you don't have company.
Braised okra with cherry tomatoes, which I wrote about last week.
Yotam Ottolenghi's sweet corn polenta with eggplant sauce. Polenta made with fresh corn! It's a little labor intensive but very straightforward. And the eggplant and tomato sauce is good on everything. I put it in a savory galette once with some chèvre and should really do that again.
Tomato and cheddar pie. This one requires a little planning: the biscuit dough for the crust needs to chill for an hour, and the tomatoes need to drain for 30 minutes.  But otherwise it comes together quite easily. The crust is quite forgiving. Once I was a little short on flour, and the dough seemed a sticky and hopeless mess as I eased it into the pie pan.  But it baked up beautifully, and didn't get soggy even after a day in the fridge. And seriously: tomatoes, mayonnaise, cheese, biscuit crust? Need I say more?
Tomato cobbler with blue cheese biscuits from Joy the Baker. Everything about this is amazing. The flavors are assertive but perfectly balanced – I recommend all spices and seasonings in the called-for quantities.
Peperonata. Sweet peppers cooked long and slow, with some capers, red wine vinegar, and herbs tossed in at the end. This is ostensibly good with many things – I imagine it would taste great alongside almost any kind of meat, on crostini with some soft tangy cheese, mixed into hot or cold pasta, on top of polenta, maybe folded into a frittata – but I wouldn't know because we always eat it straight out of the skillet.
Pomodori al forno from Molly Wizenberg. You cook roma tomatoes low and slow and then marinate them with garlic, parsley, and olive oil, before serving them with goat cheese and sliced baguette. This stuff would make you very popular at a brunch and would also make a very fine (and messy!) start to a summer dinner party, but again, I'm only guessing, because I pretty much eat this standing at the counter with the bowl of tomatoes, a hunk of bread, a tub of cheese, and a knife.
Gordon's Cup, also from Molly. Gin! Lime! Cucumber! Salt! Do it!
Peach pie. I do make a mean pie. 'Tis the season!
3) Delicious summer food I have never made (so please share your recipes with me!):
Tomato jam
Moussaka
Tomato sauce for putting up. I'm happy to freeze or can. I make sauces from canned and fresh tomatoes all the time, but I've never done it in storage quantities. Maybe I should just make more, and freeze it, but I still feel on the lookout for something really worth all that peeling and seeding.
Ketchup
Corn ice cream!
And that's a wrap.
What about you? What are you eating these days? And can you help me with that last section?