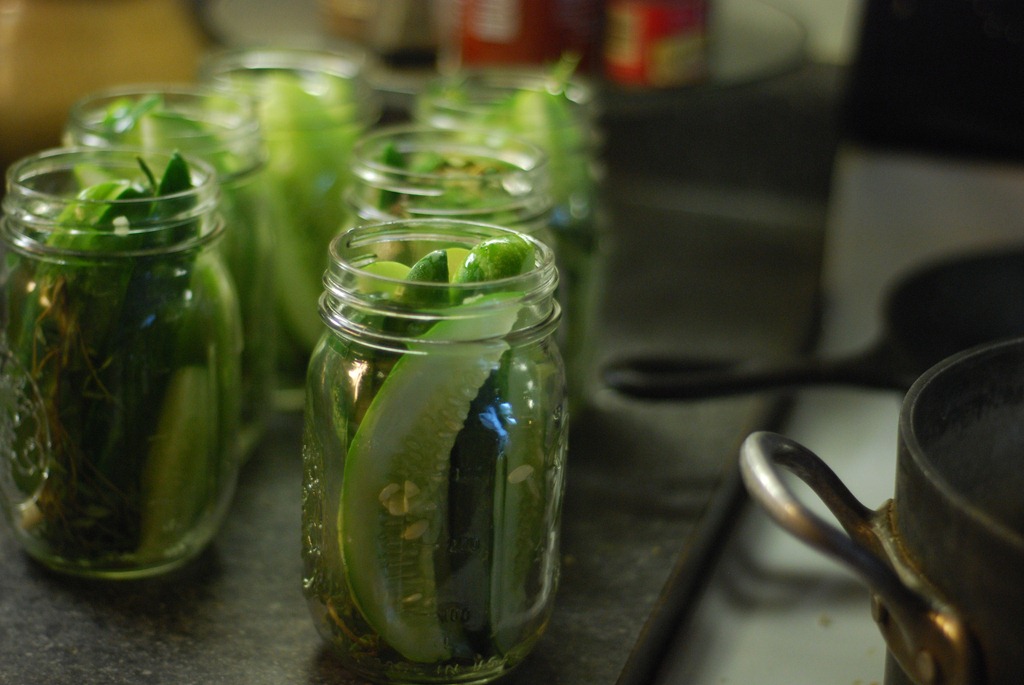 Tara mentioned making fridge pickles from a recipe I posted on our farm blog a couple summers ago, and that got me to thinking it makes sense to migrate some of those recipes over here, to this blog that's not a food blog.
I blogged for our farm, sporadically but earnestly, for four years, and there's a lot of history there. I'm still not quite sure what to do with it all – it really doesn't make sense to continue paying for the site. The land that we farmed is becoming something else. We're not quite sure what, yet, but our story there is (nearly) over. On the other hand: it's our story! I'm not sure what I want to do with all those pictures and words.
These pickles are part of that story. When it comes to putting food by, what I am is a master dabbler. Sure, I know a heck of a lot more than I did in my city days. I make jam every once in a while, but I freeze it every time. I am always happier when I can dig into lard I made from the fatback of our own pigs instead of reaching for supermarket butter. I do know how to make bacon and yogurt but I only do it sometimes. I think I am fondest of lacto-fermenting vegetables in small batches – it's quick and easy and delicious and yay for living foods! But beyond freezing bone broth and freezer-friendly produce, none of this is an integral part of our kitchen year.
It's not that I lack for excellent organic produce (umm…), and it's not that I lack for inspiration. My kitchen bookshelves are really something to behold, and there are so many great online resources. There are questions of time, of priorities, of honestly assessing how much you can fit into a day, of choosing between sterilizing jars and snuggling up on the couch for another round of George and Martha. But the real stumbling block, for me? I am a big honking extrovert. I play very well with others and get pretty lonesome standing all alone at the stove. I need a class – and, dare I say, homework. I need to blanch the peaches while a mama friend gets the jars ready and our boys stir in the sugar. I need people.
I actually have a lard rendering date next Tuesday! That makes me smile so much I think I might march on down to the old milk room in the lower barn to see if there are any returned cucumbers from yesterday's market. Cucumbers fresh off the vine are ideal, of course, but the point here is to make something delicious instead of letting something waste. And these fridge pickles? They do the trick.
As I said in the original post on our farm blog, these are a great beginner pickle for the curious-but-intimidated, but they're also a really tasty way to work through a glut of cucumbers when you don't have the time or the inclination to can. They are always good.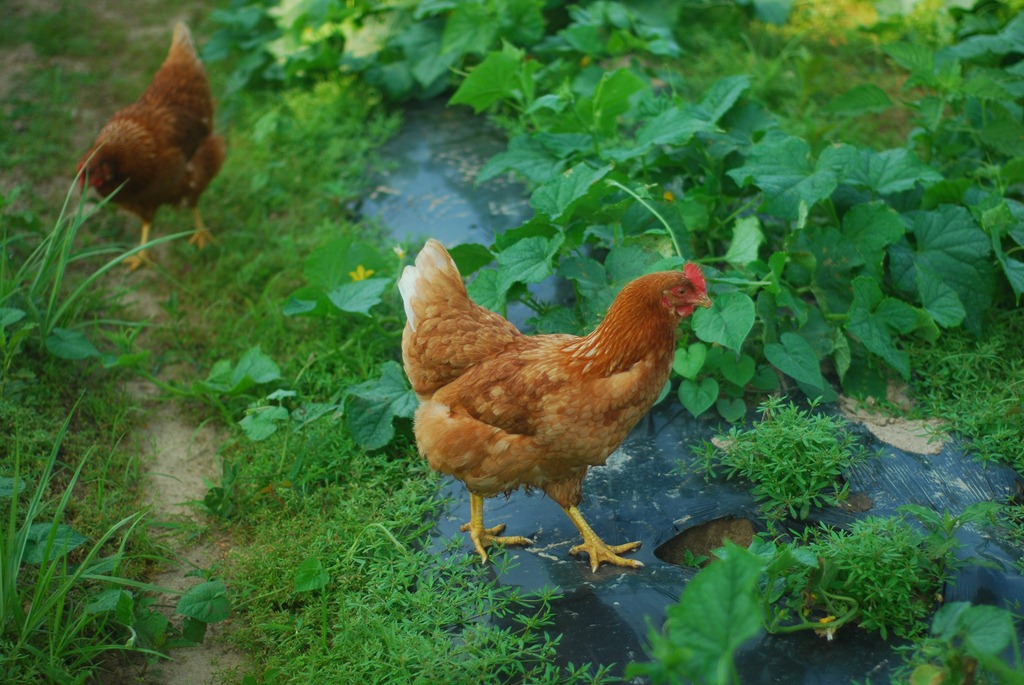 Fridge Pickles
adapted from Donalyn Ketchum
Crunchy, garlicky, and just sour enough, we can't stop reaching for these. Pour a simple brine of water, vinegar, and salt over cucumbers, garlic, and herbs. Leave the jars alone for a few days … and voila! Pickles! They aren't canned, so they need to be stored in the fridge. They'll keep at least a couple months in there – if they last that long. Makes 6 pints or 3 quarts.
For the brine:
2 quarts water
1 cup white vinegar or apple cider vinegar
1/2 cup canning or pickling salt (kosher salt is also fine, but may result in cloudier pickle brine)
For the pickles:
Cucumbers, enough to fit snugly into your jars, washed well and sliced into spears
Garlic, 1-2 cloves per pint jar or 2-3 cloves per quart jar, smashed and peeled
Herbs (dill is classic; we also love thyme), 1-2 sprigs per pint jar or 2-4 sprigs per quart jar, rinsed well
Clean your jars thoroughly with soap and water. They do not need to be sterilized.
Combine all brine ingredients in a large pot and bring to a boil. Stir occasionally to be sure the salt dissolves completely. While the mixture is coming to a boil, prepare the rest of the ingredients.
Place a smashed garlic clove or two in the bottom of each jar. Add the sprigs of your chosen herb.
Fill the jar the rest of the way with cucumber spears. Really cram them in there – otherwise some spears will float above the brine when you add it, and this can lead to premature spoilage.
Add another smashed garlic clove to each jar – wedge it down between some cucumber spears so it won't float when you add the brine.
Pour the simmering brine over the vegetables, being sure they are completely submerged. If your brine isn't simmering, bring it back to a simmer before pouring it over the vegetables.
Put a lid on each jar.
Leave at room temperature for 2-3 days (less time when the weather is very hot, more when it's cold) and then, if you can stand it, put them in the fridge for an additional 1-2 weeks.
We usually break into the first jar right away but give the rest of the jars the additional slow fridge fermentation before eating them.