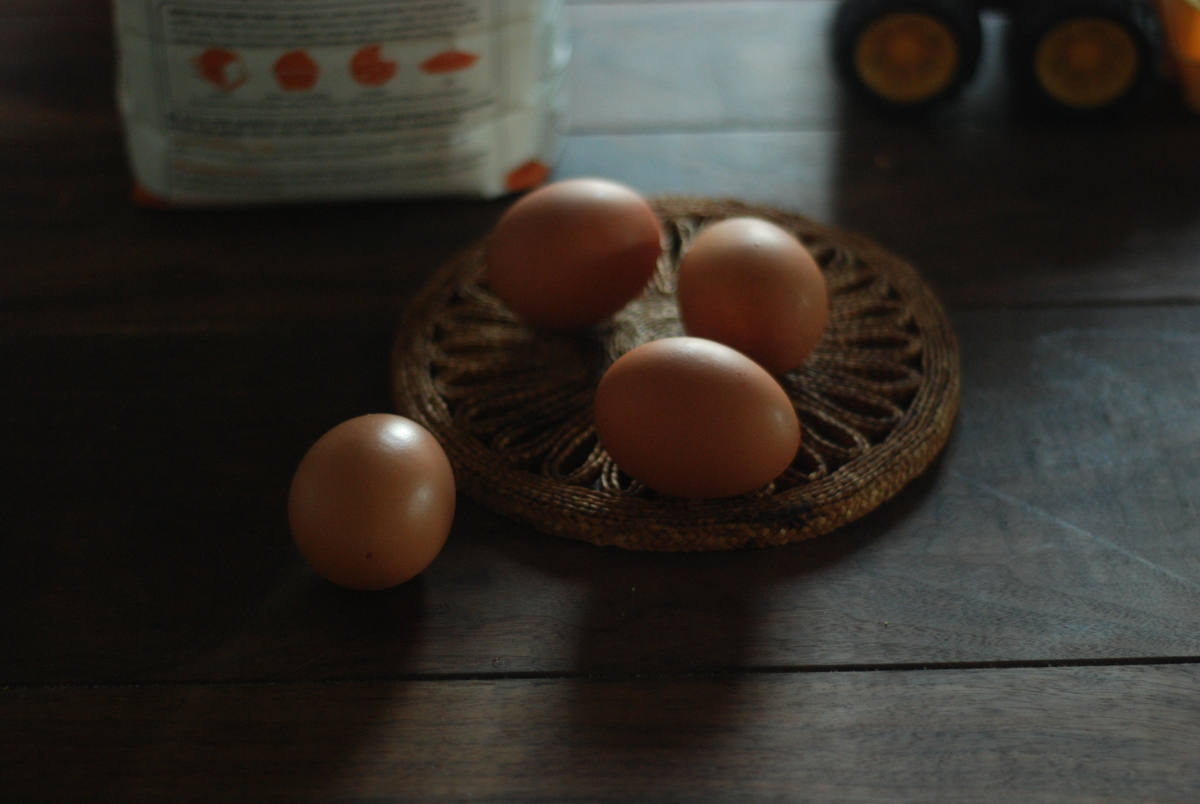 The day begins a little before 7 in a tangled, laughing pileup of pouncing baby and garrulous older brother and bleary-eyed parents, the late November light creeping through the blinds a merciful pearly grey. After a few minutes I take a deep breath and throw back the quilts, one child on my right hip and the other at my left side, hand in mine. We close the door behind us and slip out into the world of coffee and Legos. (Only on Sundays; the rest of the week my husband is the one wrangling the early birds and scrambling eggs and unloading the dishwasher, and I am the one burrowed deep under the covers stealing a blissful bit of uninterrupted sleep.) I plug in the waffle irons (we have two!) and put on a Christmas record even though it's not yet Thanksgiving. I am almost 37 and I find myself pleasantly loosening my iron grip on these sorts of things. I sip my coffee through a smile and marvel at these two children playing amicably, needing little more than my nearness.
Before long my husband joins us, taking my spot on the couch when I rise to make the batter and set the table and put on the kettle for another cup of coffee. I pull buttermilk from the fridge. We never used to keep buttermilk around and now we do and I find myself reaching for it all the time. I smile at this too. Some eggs, some butter, some flours. Quiet whisking. I think to slice some apples into a small pot with a knob of butter.
I call everyone into the kitchen. We're easy and merry. The baby is ravenous recently. I think she's growing. After nine months of not really napping she's napping, and maybe it's just for this week, but I'll take it, because she is also nursing like a new piglet all night long. At the table she reaches for everything, stewed apples and red pepper hummus and pork roast and buttery carrots and, because I am trying to chill out a little, a couple bites of her brother's waffle, pre-syrup. She slaps the table and yowls out for more.
Our mornings are not always like this, not by a long shot, but sometimes they are.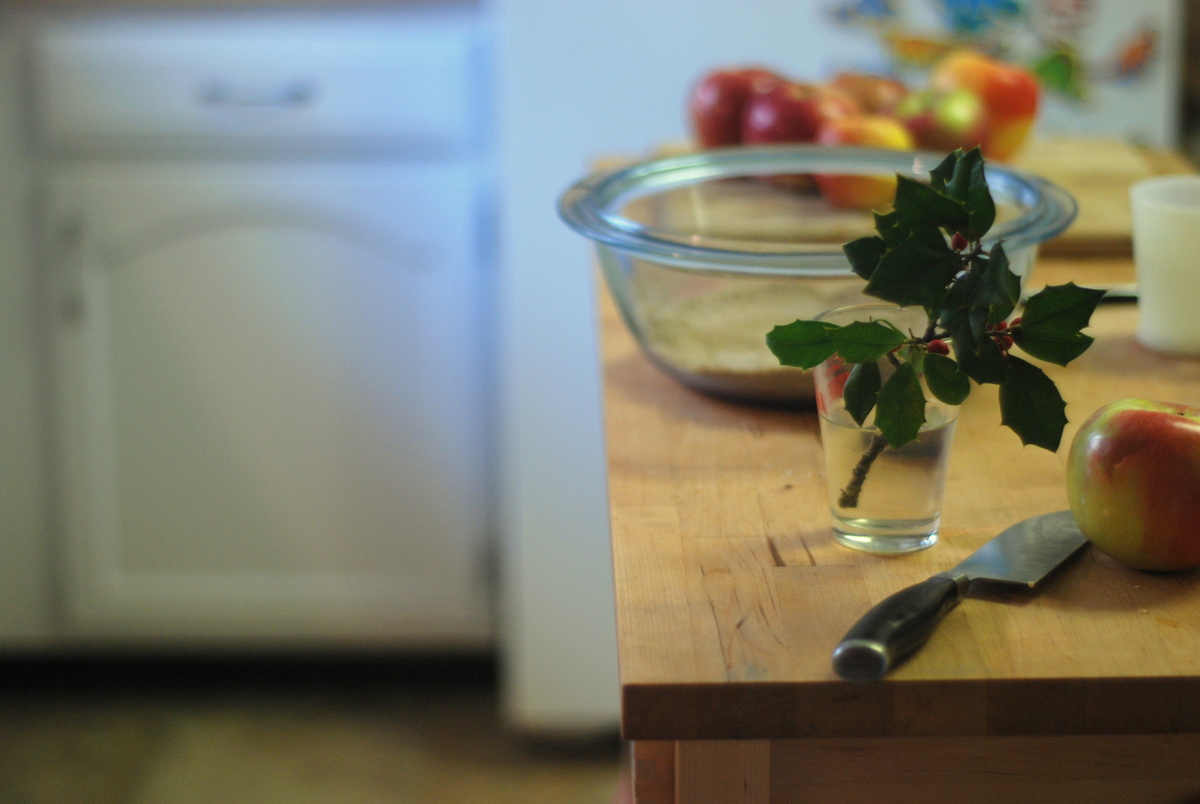 Whole Grain Waffles
adapted from Vegetarian Cooking for Everyone
I didn't post yesterday but I do have waffles to share. I hope that counts for something. We love breakfast around here. Growing up, we all had to be out the door pretty early for school or work most days, and so it was usually, and happily, cereal and milk, maybe a Brown Sugar Cinnamon Pop-Tart. These days we mostly do oatmeal or scrambled eggs with toast and fruit. But I do love a Sunday morning, the one day we're all home. We take it very easy and we usually up our breakfast game, just a little. Scrambled eggs with scones or muffins instead of toast, often. Tara's berried breakfast cobbler. Dutch babies and bacon. My dad's French toast (which is really his mom's French toast). Or waffles! I've tried so many recipes over the years and while I can't say I've ever met a waffle I didn't like (except for the one time I tried using organic vegetable shortening that had been sitting in the cupboard for who knows how long; those tasted exactly like plastic), I keep coming back to two Deborah Madison recipes – these and her yeasted waffles, which I make with a blend of white whole wheat, millet, and buckwheat flours. Really, really good, but you have to remember to start them the night before.
(See note below on substitutions.)
1/4 cup (half a stick) butter
3 eggs
1 1/2 cups buttermilk or 1/2 cup yogurt stirred into 1 cup milk
1 teaspoon vanilla
1 cup white whole wheat flour, whole wheat pastry flour, or all-purpose flour
1/4 cup each of four additional flours or meals (try cornmeal, millet flour, barley flour, buckwheat flour, oats whirred into coarse flour in the food processor or blender, even a cracked grain hot cereal blend)
1 teaspoon baking powder
1/2 teaspoon baking soda
1/4 teaspoon salt
Preheat your waffle iron and melt your butter.
Whisk all the wet ingredients except the butter together in a bowl. Whisk the dry ingredients in a separate bowl. Add the wet ingredients and the butter to the dry ingredients and whisk or stir to combine. The batter should be fairly thick but shouldn't get stuck in the whisk; if it seems too thick (and it might, depending on which combination of flours you choose) add another splash or two of milk. Cook in your waffle iron until nicely browned!
(A note on substitutions: we love these waffles on a Sunday, when I relax a little about starting the day off with whole foods, but I'm happy to make them on other days too, because there's only white flour in them if you want it; they're fantastic without it. Feel free to play around with the flour combination. I've found the recipe quite flexible, although I find rye flour does make them a bit heavy. I have not worried too much about the percentage of gluten flours. These are easy to make vegan by subbing in flax eggs for the regular eggs, any milk alternative plus a splash of vinegar or lemon juice for the buttermilk, and oil for the butter.)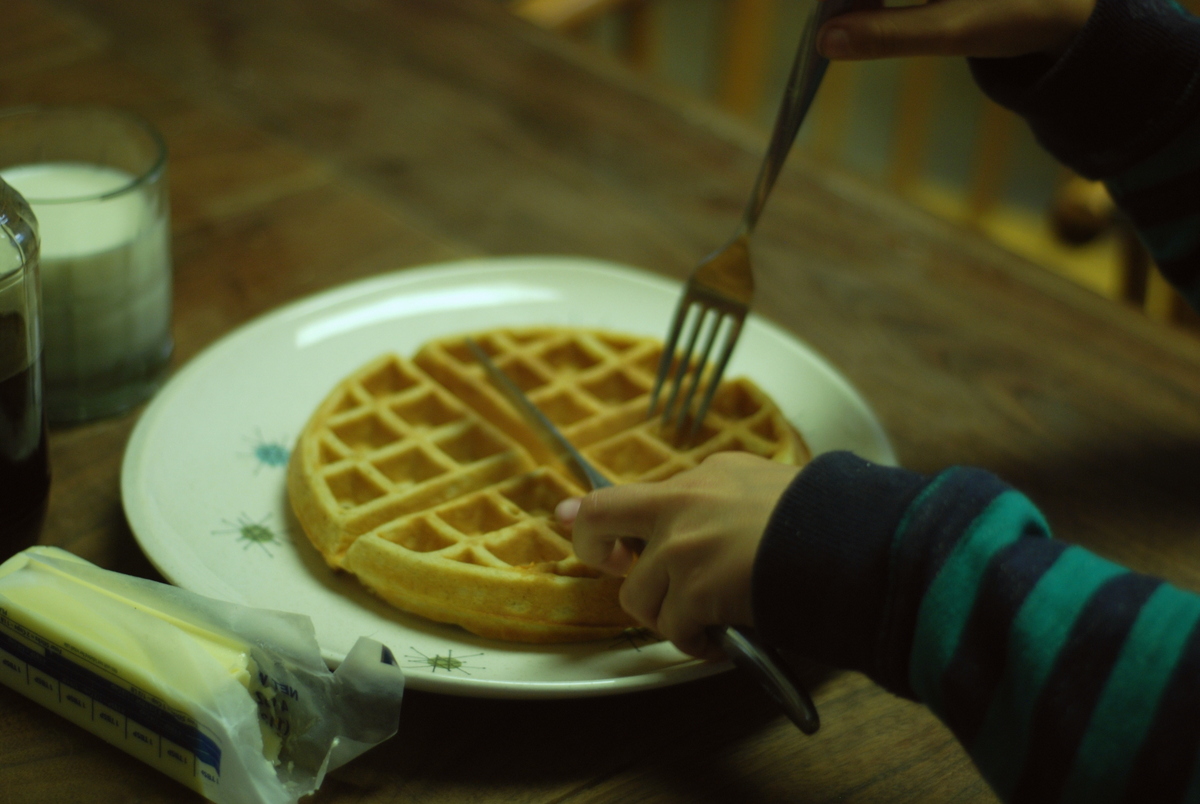 PS If you've made it this far: who wants to weigh in on this?