Regarding my progress in my seven posts in seven days challenge, this is post #4 on day #6. Not perfect, but not bad. Onward and upward!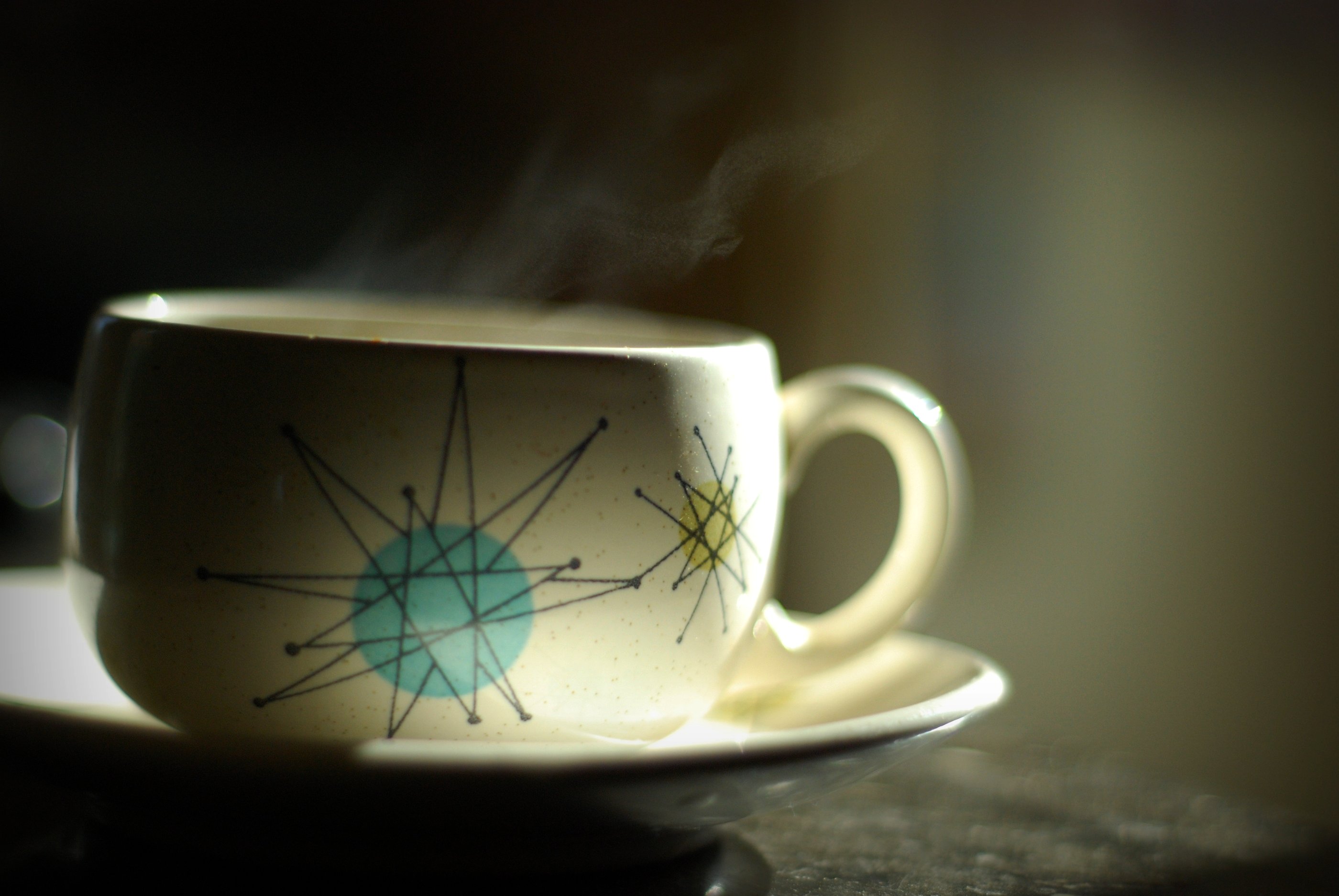 I'm thinking back on the wintry drinks of my childhood, and I think I can sum up my happy memories in two telling words: Swiss Miss. There was the occasional waxed paper cup of hot cider after a haunted hayride, to be sure, and I only have to close my eyes to see my dad's green Stanley vacuum thermos of coffee bouncing on the black vinyl passenger seat of our sky blue Volkwagen Beetle on the occasional thrilling dirt road shortcut to KinderCare. But it was really all about the Swiss Miss: Swiss Miss to warm fingers and belly after caroling, Swiss Miss halfway through my frostbitten gig as a shepherd in our church's live nativity, Swiss Miss from the snack bar during the third quarter of high school football games (when we marching band folks were permitted a short break), Swiss Miss after marching in our town Christmas parade.
What was it exactly? One packet was never really enough to make a satisfyingly creamy drink with 12 ounces of water – and that water was always either lukewarm, requiring Sisyphean effort with a plastic stirrer to dissolve the lumps of powder, or scalding, and you never could make yourself wait, rushed as you were to feel the tiny marshmallows on your tongue before they melted completely, so then you'd burn your tongue and it would hurt for two days. None of this diminished my love for Swiss Miss in the slightest. And I'd wager to guess that in another twenty years, my own son will recall his packets of hot cocoa mix at our favorite deli with at least as much fondness as our nights in front of the stove with real milk and a box of cocoa.
Let's not beat around the bush: mainly it was the sugar. Rare is the kid who can resist it. But there was also something enormously gratifying about how fast you could turn something that looked like powdered tempera paint into something that smelled of cake and snowfall and Christmas break. It was like magic.
And so eggnog – the stuff in the carton with its musty nutmeg and slimy mouthfeel – really didn't stand a chance with me in 1989, but a quarter century later, the real stuff has my heart. We make it a couple times every December. Sometimes it's on offer at a small solstice gathering with friends, and I like to sip it when we decorate the tree too. It is, of course, lovely with bourbon, or rum, or brandy, but there is little that compares to the gleam in my son's eyes or his frothy mustache when he drinks it, so I usually hold back the booze and we adults just add it to taste, if at all.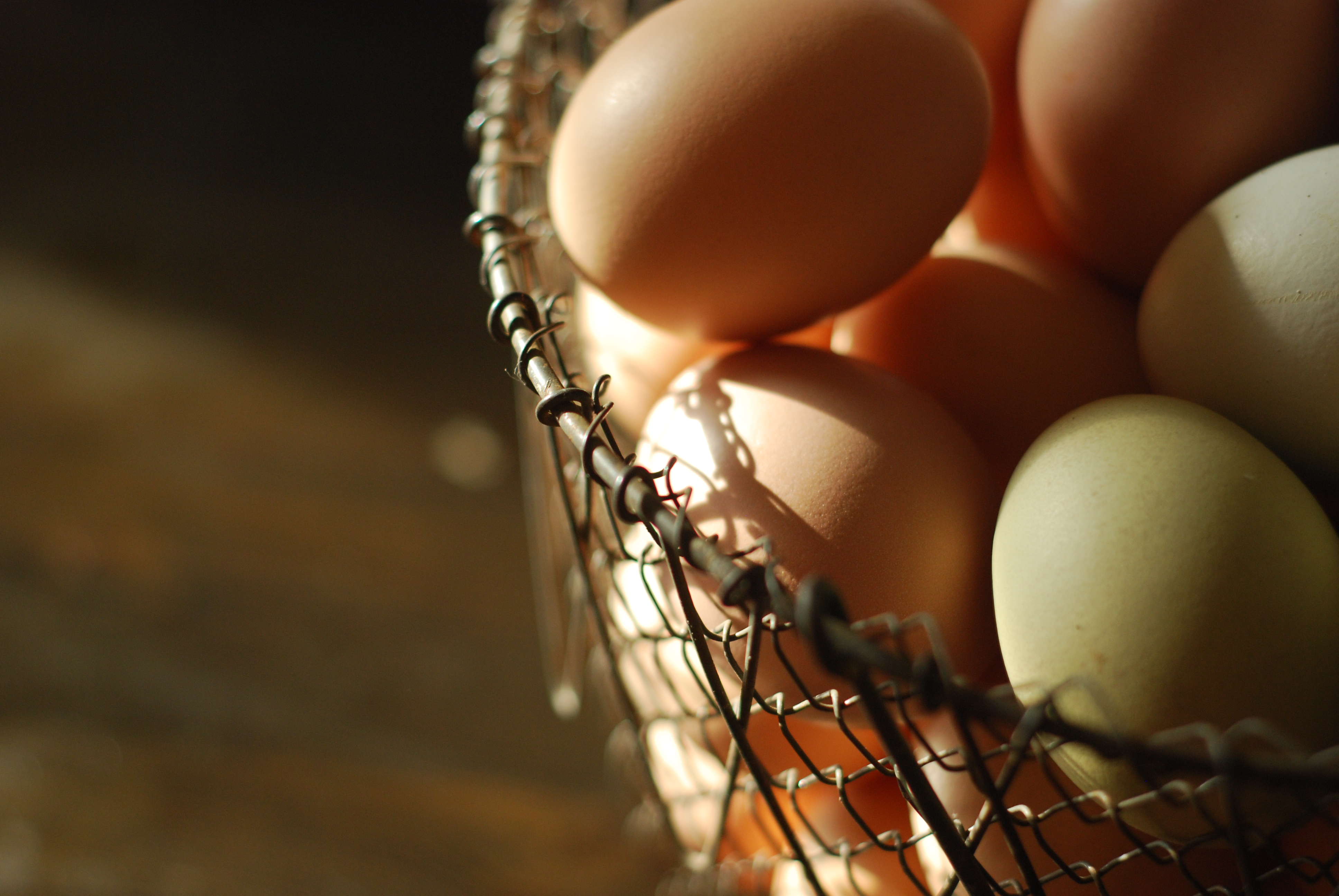 Eggnog
adapted from Alton Brown
About the ingredients: lucky as I am to have such easy access to such high quality ingredients, I'm often reluctant to suggest you use "the best you can afford." Most people can't afford that stuff, and I feel strongly that a wholesome family life doesn't depend on pastured eggs. But because eggnog is raw, taste and safety matter enormously here. Make sure you feel good about where your eggs, milk, and cream are coming from.
4 eggs, separated
1 tablespoon plus 1/3 cup sugar
1 pint whole milk
1 cup heavy cream
generous grating fresh nutmeg (about 1 teaspoon, or to taste)
3 ounces bourbon, rum, or brandy (optional)
Using a stand mixer or handheld electric mixer, beat the egg whites to soft peaks. Add 1 tablespoon sugar and beat to stiff peaks. Pour the whites into a small bowl and set them aside. You don't need to clean your mixing bowl.
In your mixing bowl, beat the egg yolks on medium speed until they begin to lighten. Add the rest of the sugar and beat until dissolved. Add the milk, cream, nutmeg, and optional liquor, and mix on low until just combined. Gently whisk in the whipped egg whites.
This is best served right away, but leftovers can be stored, tightly covered, for about a day in the fridge. You'll need to shake the jar before drinking leftovers.
Serves 4-8, depending on serving size.
* * *
Mark Twain said, "Too much of anything is bad, but too much good whiskey is barely enough." Does that mean I can keep talking about eggnog?
Alton Brown's recipe really is everything I want in eggnog: it's rich and festive and worth waiting for, super easy to make, and delicious with or without booze. But Molly's great-grandfather J. P. Hartt's boozy eggnog was the first stuff to open my eyes to a world beyond the carton in the supermarket dairy aisle, close to ten years ago now, and if you're having a party, you should consider it. Also, two years ago I made this vegan eggnog. You won't confuse it with the traditional stuff, but it's really very good in its own right. But wait; there's more! I had written off storebought eggnog completely until my friend Abbie – who farms in Vermont with her family and knows a thing or two about good dairy – encouraged me to check out Organic Valley's eggnog. Whoa! Game changer! Real food ingredients! Pastured cows! Really worth seeking out in a pinch or if you just don't fancy making your own. But if, perhaps, you do fancy more kitchen experimenting … has anyone ever made aged eggnog? Three years! Whoa again! I want to do it. And finally, convention be damned, I really want to try this rose and cardamom eggnog (and everything else in that post).
What did you love to drink as a kid when the weather turned or during the holidays? What do you love to drink now?