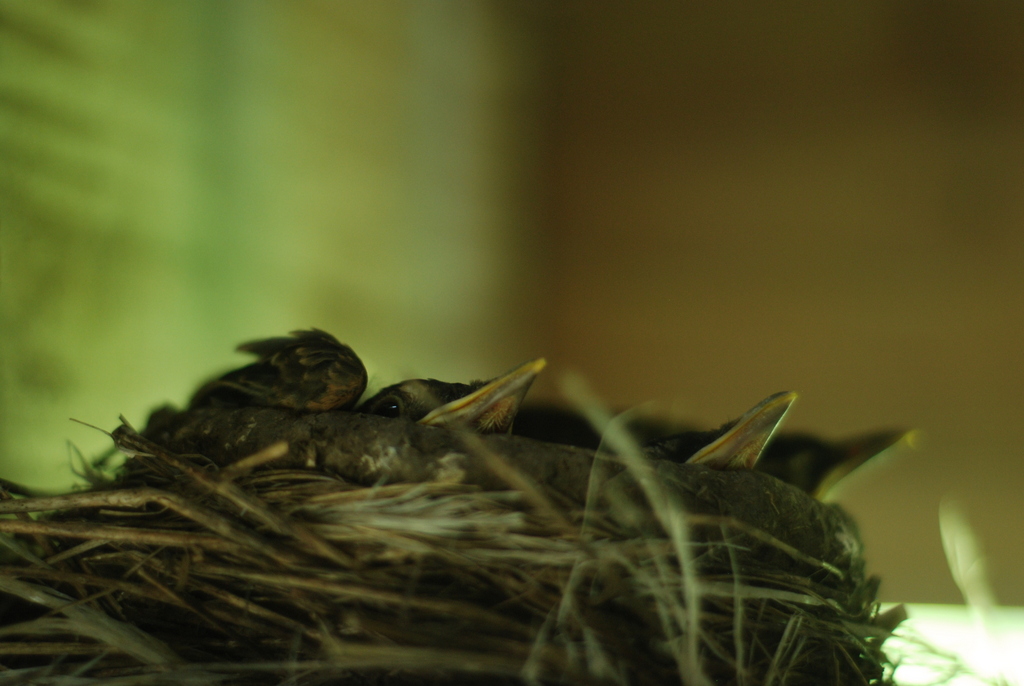 Three weeks ago I wrote that I was struggling to find time to write here, despite a head full of ideas. In the weeks since I have realized the truth about my not writing is a pretty tangled to-do.
Life here brims with daily blessings and wonder. For two weeks we watched three robin hatchlings grow at lightning speed, until Saturday, when they flew from their nest. There is more rhubarb here on the farm right now than you can shake a stick at. My son adores the whole farm crew and hightails it from our front porch to their back deck several times a day. I don't know if they see him as more of an Urkel or a Kramer, but their patience and tenderness with him is a balm to my weary heart every single time. Yesterday we went out for lunch and ice cream and left the shop with two quarts of just-picked strawberries. As we did the rest of our errands I daydreamed, half drunk on their sweet perfume, about what I most wanted to do with them. Jam? Ice cream? Alice Medrich's buckwheat shortcakes? My husband came home from work at six and we three piled onto the bench on our back deck with the box of strawberries and a bag of pistachios and together we polished off almost everything as the sun eased down the sky.
And the resources at hand here – cultural, educational, social, natural, culinary – are truly exciting. There are so many of them, and they're so much closer than they were in Virginia. It's really a delight to imagine the ways our life will unfold here over the years.
Still. I'm struggling. More than I thought I would. It's partly the move from a farm where I was needed to a farm where I am not. I never felt I juggled motherhood and the work I did for our business with much aplomb, and as we prepared for the move I relished the idea of narrowing my focus to family and home for a time. But it turns out it feels good to feel necessary and quite a bit less good not to. I'm also struggling as a parent, to respond more often than I react, and to figure out what kinds of structure and rhythm we all need. And I've been reminded a few times in recent weeks of what an unkind place the internet can be. It has not been that way for me, but knowing that kind of heartlessness is out there makes me feel fiercely protective of my family, and perhaps also of my own pride, and leaves me wondering if I should be writing here at all. And finally, there is the small but steady voice I keep hearing, the one that says if I am going to be here in this space, perhaps it is time wrap up all this earnest talk of how difficult transitions are. Perhaps it is time to move on to something else, or at least something more.
Here's what I know will help: time. Compassion, for myself and for the people I love. Rest. Good food. Movement. Meditation. Time. Family. Friends. Elders. Being of service. Time. Writing. Reading. Establishing rhythms and routines. Connecting. Time. A sense of belonging. A sense of purpose. Time. Moving at my son's pace and trying to understand how he sees this new place. Staying busy, productive, and curious. Gratitude practices. Have I mentioned time?
______
When I was stressed in my New York City days, the surest quickest route toward well being and away from self pity was to just open my door. Sometimes I'd walk through Tompkins Square Park and toward the East River. Sometimes I'd catch the next M15 up First Avenue with no particular destination. But most often I'd just sit on our stoop and watch the city go by. For me, it was that same feeling you get staring up at a perfect and vast midsummer sky, that reminder that you matter, but only as much as the next person or tree or mosquito. "Oh yeah," I'd think, "it's not just me."
So here I am, looking for a new stoop to sit on. I'll keep you posted.