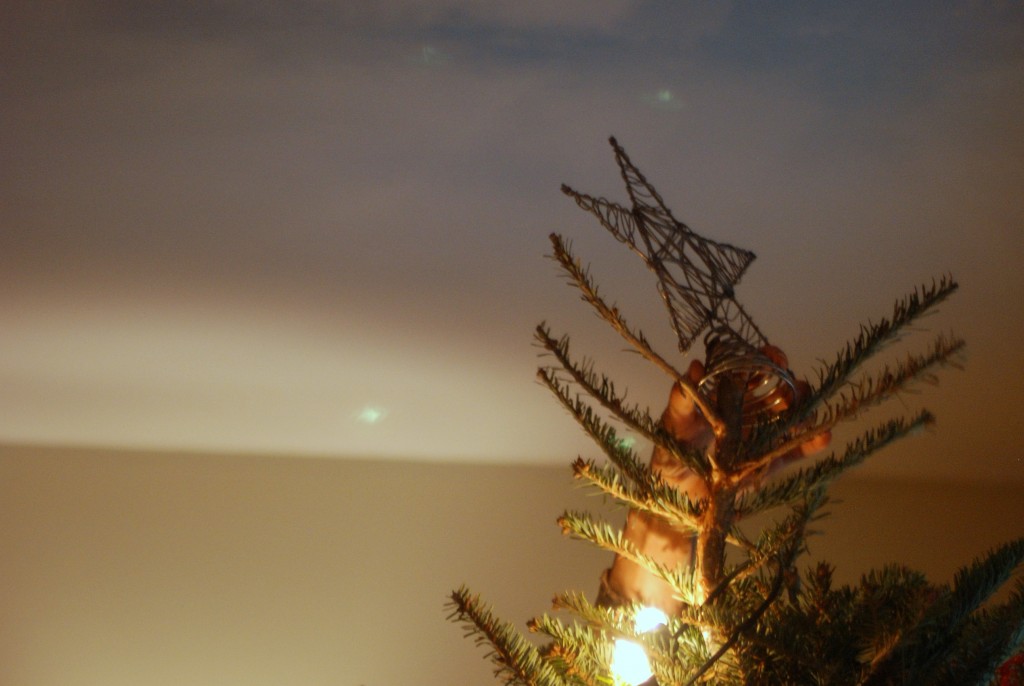 Last night I slept terribly. My son woke briefly a little after 1 and after getting him settled again I found myself staring wide-eyed through the dark at the ceiling. I didn't drift off again until after 4.
I can't say for sure but I don't think this is a rerun of last winter's long insomnia. What I do know is that last night I was fretful about the baby. Moving late in a pregnancy is hard. I'm struggling, a lot, to surrender to some pretty enormous changes in my prenatal care and in our plans for how and where to welcome this baby.
The deep darkness of the wee small hours doesn't do one's fears any favors, of course. I lay there for a long time, panicky, miserable, begging for sleep, before remembering: sit up and be with this wakefulness. And so I did. I was immediately rewarded for that tiny act of surrender when I opened Pandora and this was playing. I snorted aloud before switching to a piano station and pulling The Zuni Cafe Cookbook onto my lap. A little later I slipped from under the down comforter and headed to the fridge for a big glass of milk.
I didn't find any answers, but eventually a certain kind of peacefulness crept in and dulled the edges of my worry. With blessedly heavy eyelids I turned off the lamp and pulled the comforter back over my shoulders.
I woke a few hours later to the sweet smell of hash browns in the skillet and the sweeter sound of dishes being put away. In the muted light of early morning I felt a little better, which seems to be how morning works. I found my slippers, made my way to the kitchen, hugged my husband, and thought with delight about some things bringing me quite a bit of comfort and joy:
1) Heather of Beauty That Moves just announced her latest online workshop! Heather writes: "Hibernate is a self-paced, four week, online retreat – a place to celebrate the pause that wintertime brings. A place to linger through the dark and quiet, to welcome stillness, and allow time to enjoy home and hearth." Each week will offer ideas to nourish, gather, refresh, create, and rest. I cannot think of something more appealing. I've participated in Heather's 30 Day Vegan and Whole Food Kitchen courses, and I think what I love most is her gentle, non-dogmatic approach and her heavy focus on self care. This course begins January 13. Lots more details here.
2) Nicole of Gidget Goes Home is running The Motherhood & Jane Austen Book Club in 2014 – a chance to read or reread all six of Jane Austen's novels though the lens of motherhood. Nicole notes that the novels are "chock full of interesting mothers, mother figures, absent mothers and young women who we imagine may become mothers later. We will discuss these characters, how they affect the plot, how they make us feel as mothers, how they relate to mothers we know, and more." First up is Pride & Prejudice. I can't wait.
3) Throughout all of that – and also as soon as I post this – I plan to drink a lot of chai. I've made a lot of versions over the years, all delicious, but my current favorite method comes from Jess at Witchin' in the Kitchen. I like my chai spicy and not too sweet, so I've been reducing the honey by a smidge, upping the ginger, crushing cardamom pods, black peppercorns, and a star anise pod to add to the garam masala, and using some cardamom-flavored tea in place of straight black tea. For a decaf version I bet rooibos would be nice! Delicious, gorgeous recipe here.
 I'd love to know what's bringing you comfort and joy these days.